Powerful and proven programs for Australian schools
At EMPOWERING Life Skills, we work with principals and their communities to minimise the impact of disruptive student behaviours, reduce bullying and empower young people to be confident, resilient and respectful citizens.

"The BRIDGE BUILDERS® Program is unique as Jocelyne has created it from an Educationalist perspective. Her knowledge, experience and research of schools has helped to create a program that equips every level of the school community. Few programs identify the complexities and resources required to not just empower children but equip an entire community for a culture of well-being, connectedness, creativity, innovation and success."
Cinaea Dallinger - Head of Junior School,
Northside Christian College

EMPOWERING Life Skills School Programs
Staff Professional Development
BE the CHANGE to STOP Bullying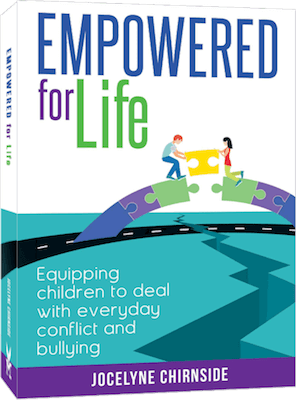 EMPOWERED for Life - Jocelyne Chirnside
Jocelyne's book on equipping children to deal with everyday conflict and bullying could have an incredible impact on your students, children or community.
Check it out now!

The BRIDGE BUILDERS® program represents best practice in the education of school children about positive relationships and interaction and this is a critical element of a preventative approach to crime and violence. The program is evidence-based and grounded in the theory and scholarship of the field. It has potential to make a significant impact at both individual and community levels in terms of addressing violence and bullying in schools, and equipping children with the skills and attitudes to manage complex schoolyard relations. The foundations built by the program will be carried by children into their adult life – transforming the nature of their adult relations.
Dr Rachael Field
Professor of Law, Bond University